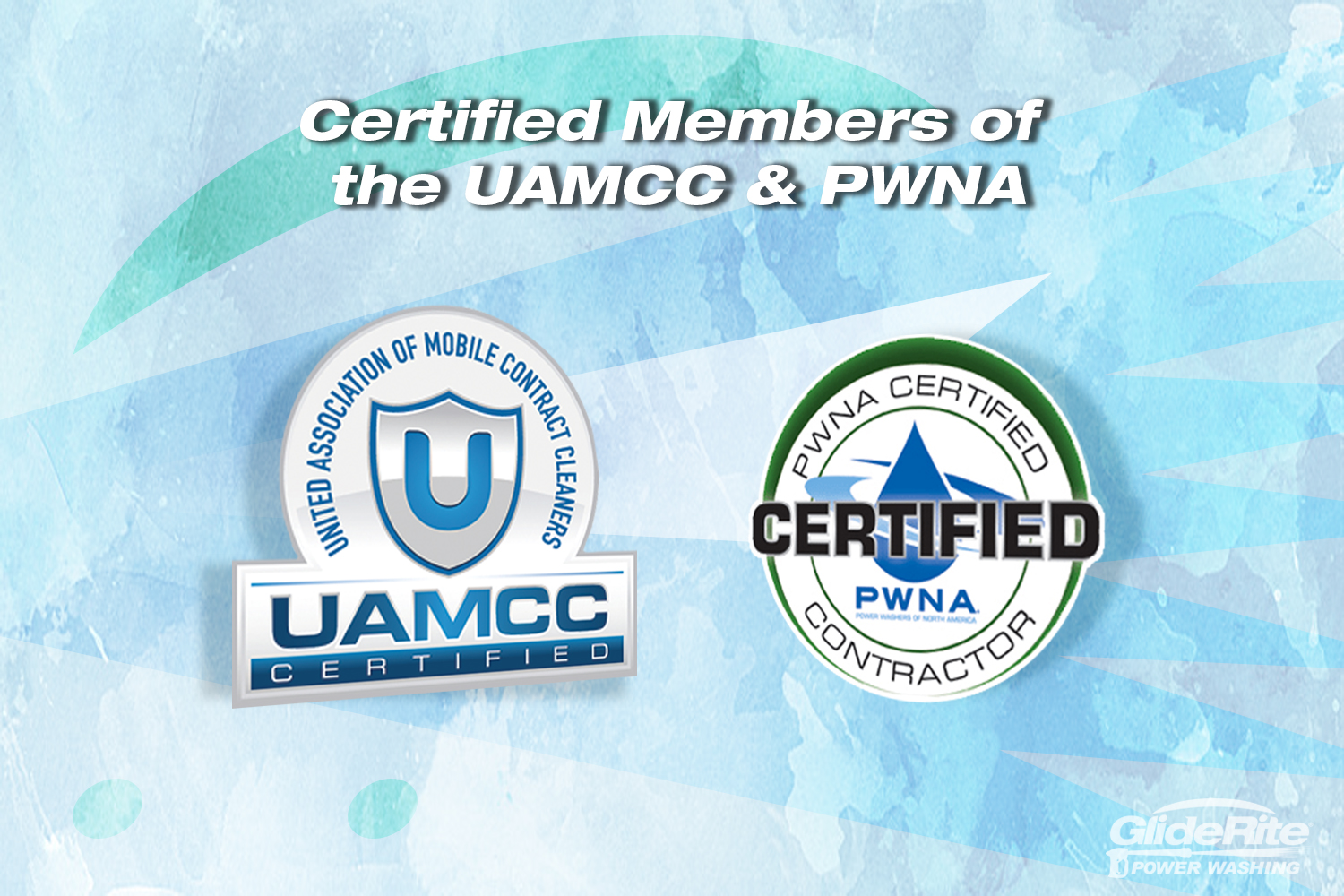 06 Sep

Certified Members of the UAMCC & PWNA

Glide Rite Power Washing is proud to be certified members of the UAMCC (United Association of Mobile Contract Cleaners) and the PWNA (Power Washers of North America). Not only are we members, but we actively participate. We have been invited to teach classes and have spoken at previous events.

UAMCC

The UAMCC is committed to promoting the benefit and value of the power washing profession. Our membership to this national organization demonstrates our commitment to our business; we agreed to a code of ethics that is upheld by the UAMCC and this helps us provide quality and professional customer service. They also help provide us with further education through their online platform with articles, webinars, and mentorships.

PWNA

The PWNA has been an industry leader in the power washing industry since 1992. They represent all power washing companies: aerospace cleaning, concrete cleaning, fleet washing, kitchen exhaust, wood restoration, and everything in between. They are a non-profit organization and assist in communicating ethical business practices, environmental awareness, and safety through continuing education.

Benefits for You

The UAMCC isn't just for us, it's for customers, too! They connect customers that need power washing, window cleaning, carpet cleaning, and mobile cleaning with companies that are dependable, insured, and qualified. As a member of the PWNA, Glide Rite is sworn to a code of ethics to uphold for all of our customers. We believe in fair and honorable practices that honor our customers, business, and environment.

Benefits for Us

As UAMCC members, Glide Rite Power Washing receives numerous benefits! They host a variety of industry events around the country where we participate in order to keep up with the latest trends, equipment and technology, as well as train and educate our technicians. The PWNA has four pillars to provide us with the best leadership and direction in our industry: education, networking opportunities, conventions, and a clear voice. Like the UAMCC, they host conventions across the country for education, networking, and to view the latest equipment in the industry.

Glide Rite firmly believes in continuing education, and although we have thirty-five plus years of experience, we are always learning. We purposely stay involved with the best organizations in our industry. We care for our customers and want to offer them the best experience possible; these organizations help us do so. We share the same values that they uphold, so if you find that you need any power washing services at your business, contact us. Glide Rite's professional staff is equipped with the best resources to give you the best quality service. Keen attention to detail allows us to create a stress-free environment that you can trust. Our educated technicians and environmentally-friendly equipment are standing-by ready give you the best service possible. So, don't let dirt and grime damage your bottom line.