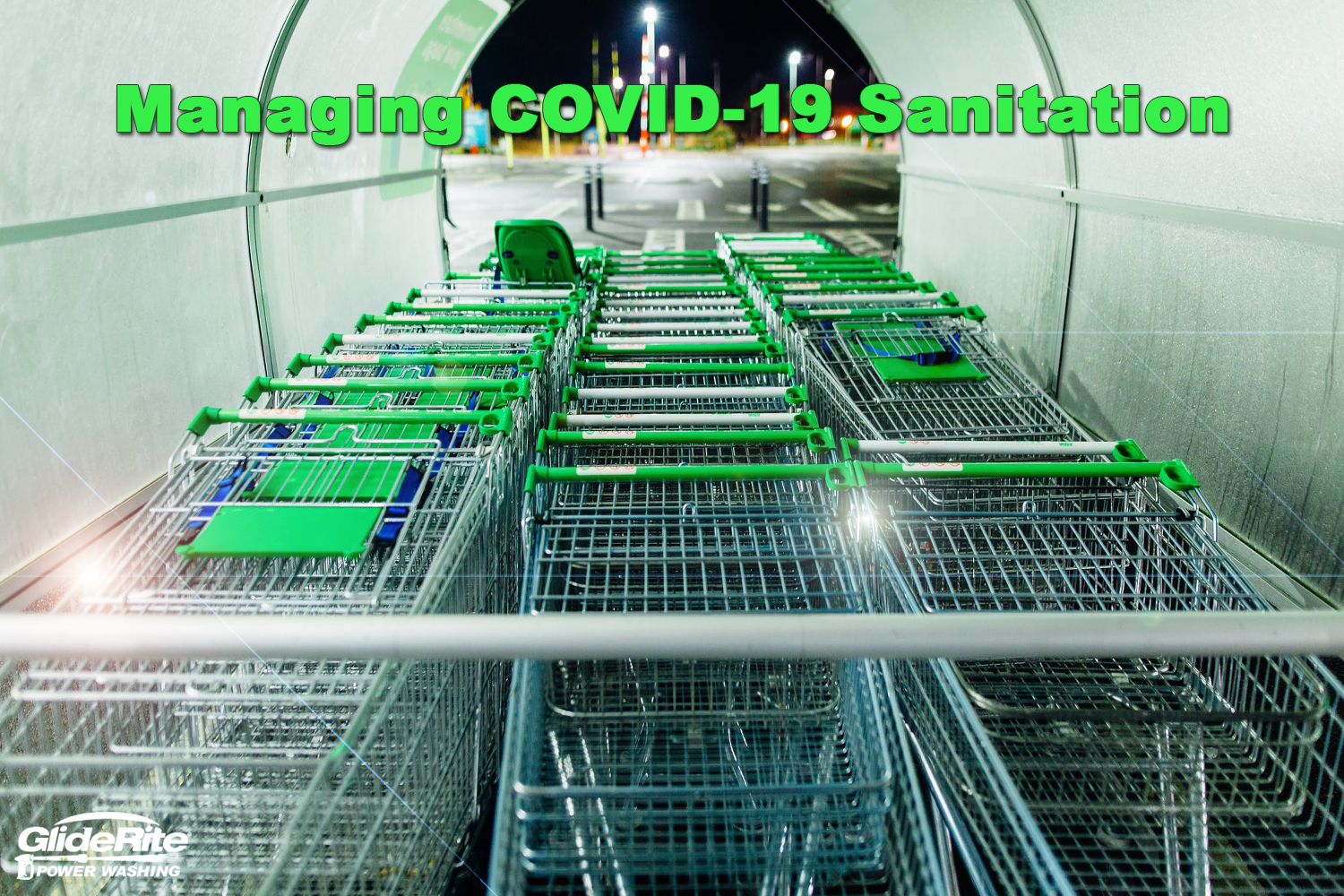 06 Aug

Managing COVID-19 Sanitation

As the COVID-19 crisis continues to unravel, proper sanitation techniques are high of mind. Proper hand washing and household cleaning protocol has been published by the CDC. Keeping our indoor spaces clean and sanitized is imperative during this time, but what about a building's exterior? Sanitizing the exterior of your business is just as important for the health and safety of our entire community.

Exterior sanitation isn't just for curb appeal; it can help our community immensely in ways you may not have even considered (including helping our community's homeless population). Additionally, sanitation practices don't solely have to focus on outdoor walls, sidewalks, or parking lots; sanitizing a business can include necessary equipment such as shopping carts. Other areas where sanitization is imperative are apartment breezeways, playgrounds, store fronts, restaurants, and other high traffic areas currently deemed necessary.
What We Are Doing
Glide Rite has been sanitizing the exterior of businesses since 1984, but that doesn't mean our work for our community is done. During this difficult time, we want you to know that we are here for you. As a small business, we know how hard-hit other small businesses in our community are. We want our community to know that we stand with you and have adopted some new practices to keep our Glide Rite family, and therefore our community, safe.
Contactless Service
We have made our estimates and invoices completely paperless. We will email invoices for credit card payments that can be made securely online. We will also take payments by check that can be mailed. We will reach out via email to arrange whatever payment option works best for you.
OSHA Training
All our technicians have been briefed on workplace preparedness for COVID-19 in accordance with OSHA guidance. Although this specific training has not been made mandatory by OSHA nor the CDC, we feel that it is in everyone's best interest to remain educated and prepared through current events.
Complimentary Entrance & Exit Sanitizing
Once we have completed a cleaning job, we will offer a complimentary sanitization of your entry doorways, to better protect your customers, tenants, and employees.
Social Distancing
To further limit exposure, we will be following CDC guidelines regarding social distancing. This includes giving our clients plenty of space and banning handshakes for the time being. Additionally, our Glide Rite family has no plans or desire to be in large crowds of any sort until the COVID-19 threat has passed.
Health Monitoring
If any of our employees are sick, they will stay home. We pay our employees a good wage and most have paid time off they accrued. We will test for fevers every morning and every afternoon after their shifts to monitor their health. We also ask that you let us know if you or anyone in your business is sick. This protects our family as well as yours. We can work with you to postpone your service until everyone feels better, if necessary.
How We Can Help
We are ready and available to provide our community with sanitizing services (it's what we do best!). Our soft wash mixture contains Sodium Hypochlorite (12.5%) which is twice as strong as household bleach (5.25-6%) and is an approved sanitizer by the CDC. In areas that require something other than Sodium Hypochlorite, we also use a Maquat sanitizer approved by the FDA, CDC, and EPA for sanitation and effectiveness against COVID-19.
There may be services you need right now that Glide Rite cannot provide, but that doesn't mean we can't recommend a reputable company that can. Glide Rite's network in the Dallas-Fort Worth community is vast. We would never recommend a company that we wouldn't trust ourselves. If you need help finding a reputable company for other services, reach out to us.
We are all in this together. We love our Dallas-Fort Worth community and want to do all we can to help. If you know of anyone that could use our preventative sanitation services, please pass this along. Remember to support your local small businesses. Small restaurants, boutiques, service shops, and even cleaning companies are here and happy to serve you. We know we will get through this just as we have gotten through everything else: together.
Conclusion
Glide Rite wants to help make our Dallas-Fort Worth community safe and clean by sanitizing businesses, shopping carts, dumpster pads, playgrounds, apartments, and more. It's important to minimize the risk of disease-spread for our entire community, and one way we can do that is by making sure our city is sanitized. It's all our responsibility to keep our community safe. We need to approach the cleanliness and sanitation of our communities together. At the risk of sounding cliché, we want to remind our readers that it's always darkest before the dawn; we will get through this. If you need anything, contact us. We will try our best to help.