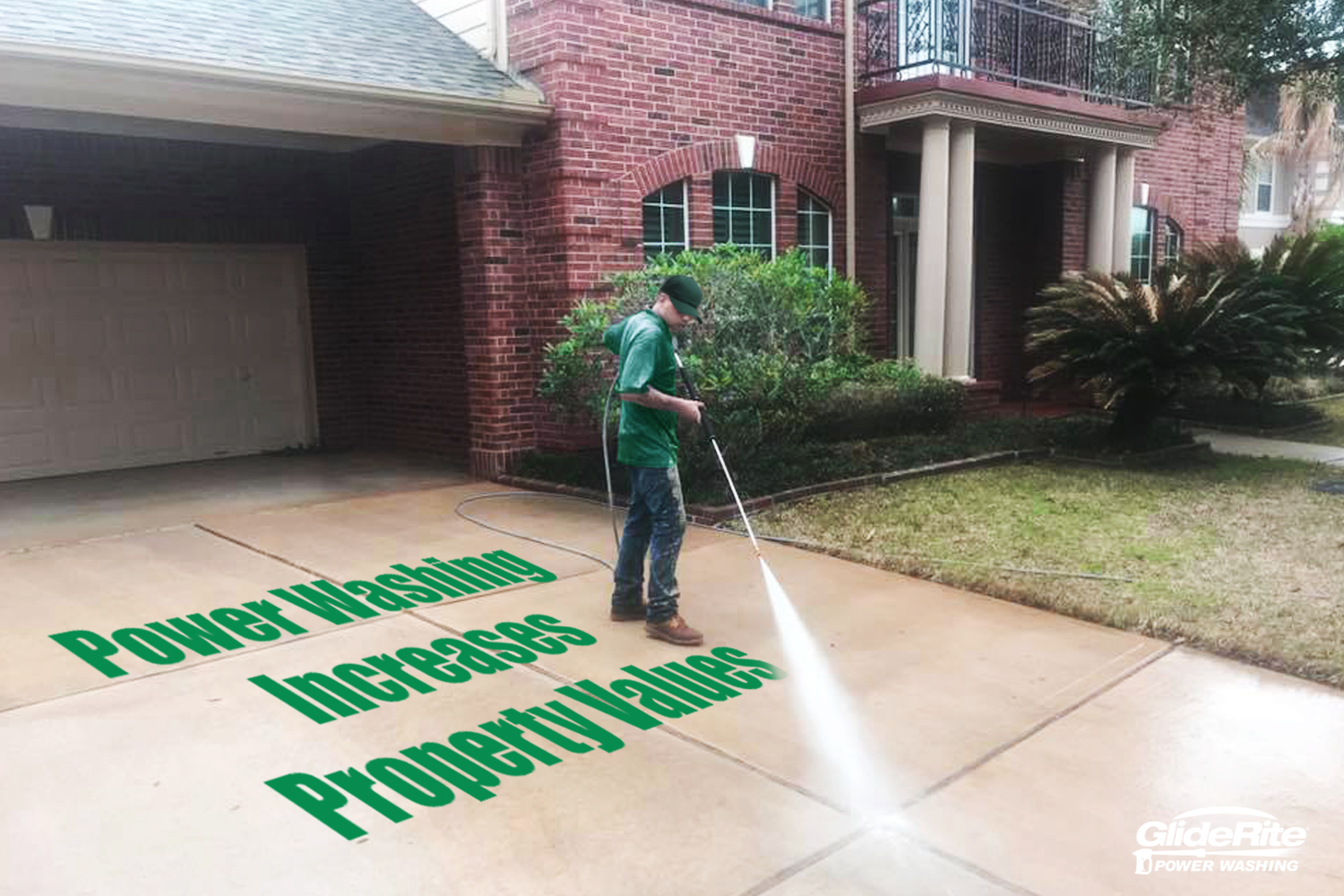 06 Mar

Power Washing Increases Property Values

Keeping your buildings, and homes, clean means you help to preserve their value. The only way to keep buildings and homes clean is to have them power washed by a reliable company. Glide Rite is your reliable power washing company for the Dallas-Fort Worth area. We are ready to keep your property value high.

As you may know, Glide Rite only works with commercial operations, but what you may not know is that we consider Homeowners Associations to be a commercial operation. That means that your HOA can hire us to keep your community clean. This increases your property value as we keep the surrounding areas clean and sanitized.
Homeowners Associations
Your HOA maintains architectural integrity, keeps all common areas clean and accessible, and helps increase everyone's property values. They can exist in gated or non-gated neighborhoods, apartment complexes, or condominiums. There are several types of structures in communities that Glide Rite can assist with keeping clean by power washing: pools, bike/walking paths, parks, tennis courts, common areas, club houses, playgrounds, fountains, entry ways, and more.
If you're part of an HOA or live in community that funds an HOA, you deserve to keep your property value as high as possible. When your HOA is working cohesively, they can help increase your property values by ensuring your community stays visually appealing and sanitized to protect its residence.
Sanitizing for Protection
Keeping all the areas in your community clean and free of germs is vitally important for the health of your entire community. The children in your community may share a pool, park, and playground. Keeping these areas clean for them means protecting them from the spread of germs. Children already spread germs rapidly in school; keep their home areas clean so they can stay healthy as they are more susceptible to germs.
Maintaining Value
You may intend to live in your community forever, but the reality of our modern world is that you may move to another community, city, or even state. That means that if you ever do move, you will want your investment to pay off. Not only will you want what you put in back, you'll want more. The goal is to increase your property value. Keeping your community clean will do this.
When your HOA hires Glide Rite, we ensure that every building, walkway, entrance, bike rack, and surface in your community is cleaned and sanitized to perfection. Our equipment allows us to use different pressure, temperature, and chemical amounts for all different surfaces; this means that we can power wash any surface in your community up to brand new standards.
Conclusion
When your Homeowners Association hires Glide Rite Power Washing to clean and sanitize your community, you get so much more than money back in your pocket (although, that is the most exciting reward). You can rest easy at night knowing that your community is cleaned of germs, meaning you protect children, the elderly, and pets from spreading illnesses.
Putting good back into your community means you are all happier. A happy community is a great community to live in. When you can walk around and see all the clean structures, you will feel a sense of pride. Trust Glide Rite Power Washing to increase your property value, protect your children, and keep your community beaming. Call us today to request a free estimate: 817-807-0004