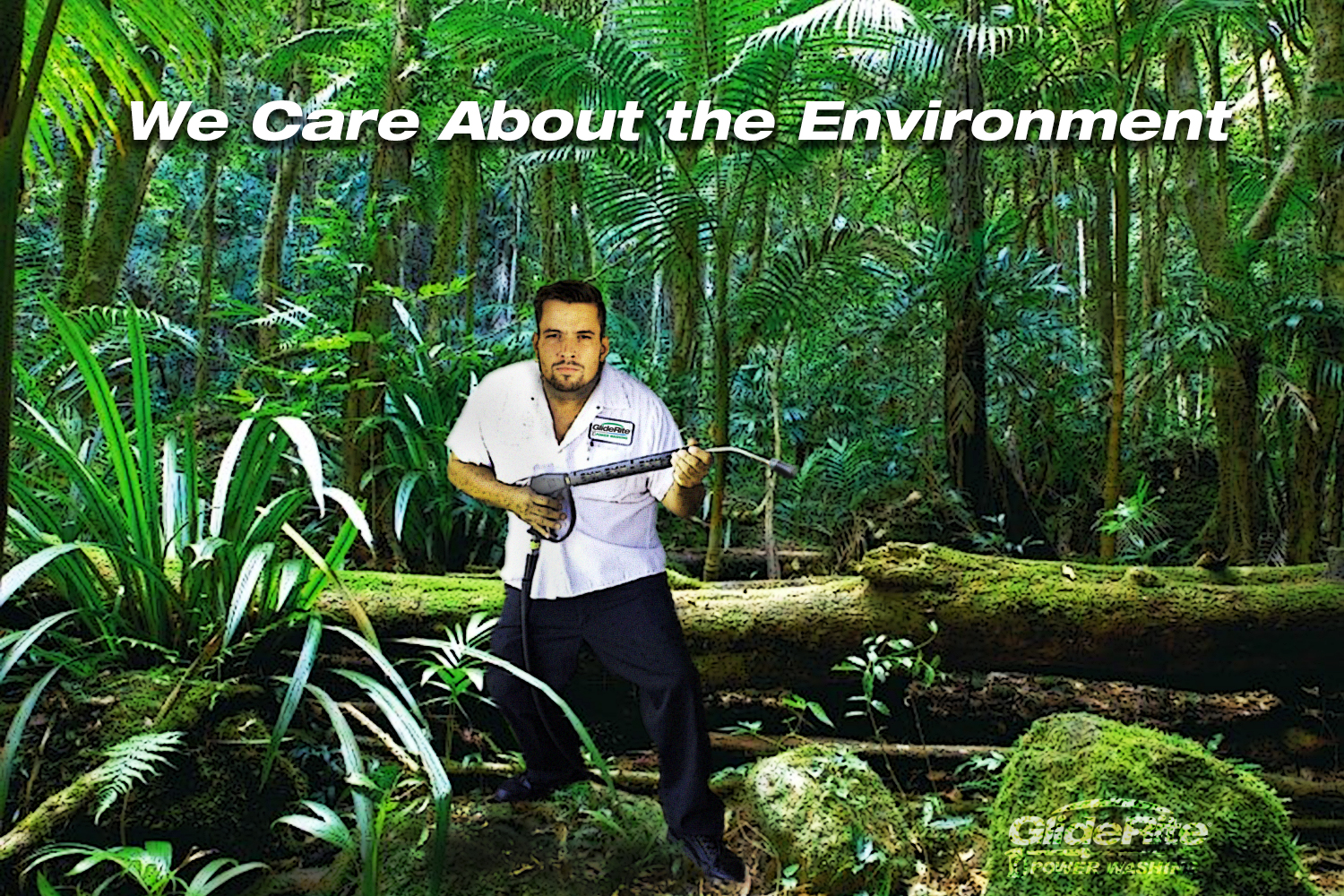 06 Aug

Environmentally-Friendly Power Washing Company

The environment seems like a very hot topic now-a-days, and perhaps it should be. The environment is very important as we should all strive to protect the world we live in. In fact, Glide Rite is an environmentally-friendly power washing company. We want to show our customers that we care about our earth. Here we outline the ways we show love to the world we live in.
Enviro Bio Cleaner
We use environmentally-friendly and safe, biodegradable chemicals and degreasers. Our chemical company, Enviro Bio Cleaner, is water based, nontoxic, and nonflammable. They provide power washing (us!) and kitchen exhaust cleaning industries with the perfect, heavy duty degreaser. EBC helps us clean drive thrus, sidewalks, walk ways, dumpster pads, sides of buildings, and much more.
In the environmentally-friendly power washing industry, we face some tough and stubborn cleaning projects every day. We chose this degreaser because of its ability to help us give our customers the best clean. We can easily get rid of heavy oils, grease, mold, mildew, and dirt. Plus, it's the best choice for the environment.
Water Reclamation
To help us be a more environmentally-friendly power washing company, we have full water reclamation abilities. We proudly manage all our waste water and dispose of it in accordance with all municipal and customer requirements.
Our water reclamation process utilizes state-of-the-art, vacuum recovery equipment. When we are on a job, we have the ability to capture all the wash water we use during our power washing process. By capturing the water, we are able to safely remove all of the pollutants that we have washed away from our customers property. This ensures that these pollutants don't enter the storm drains. 
By reclaiming the water we use, we stay in compliance with all local, state, and national waste water regulations. When we keep our used water out of the storm drains, we are protecting the environment—lakes, streams, rivers—from pollutants. This means we significantly reduce our ecological footprint.
Clean Business Means Clean Environment
Our environmentally-friendly power washing company is centered around providing the best clean for our clients' businesses. This, by extension, means that we are creating a cleaner, safer, and healthier environment for all. When the outsides of businesses are clean, the gunk that we clean off (mold, mildew, grease) can't contribute particles to pollute the air. When we have cleaner air, we have a better environment for all.
If you're looking for an environmentally-friendly power washing company that is compliant with EPA regulations, goes above and beyond to save water, and gives your business the cleanest clean, then help us protect the environment and contact us to learn more. We can discuss what your company needs to protect your business, keep your employees safe, and save the environment. You can trust us to keep your business clean.