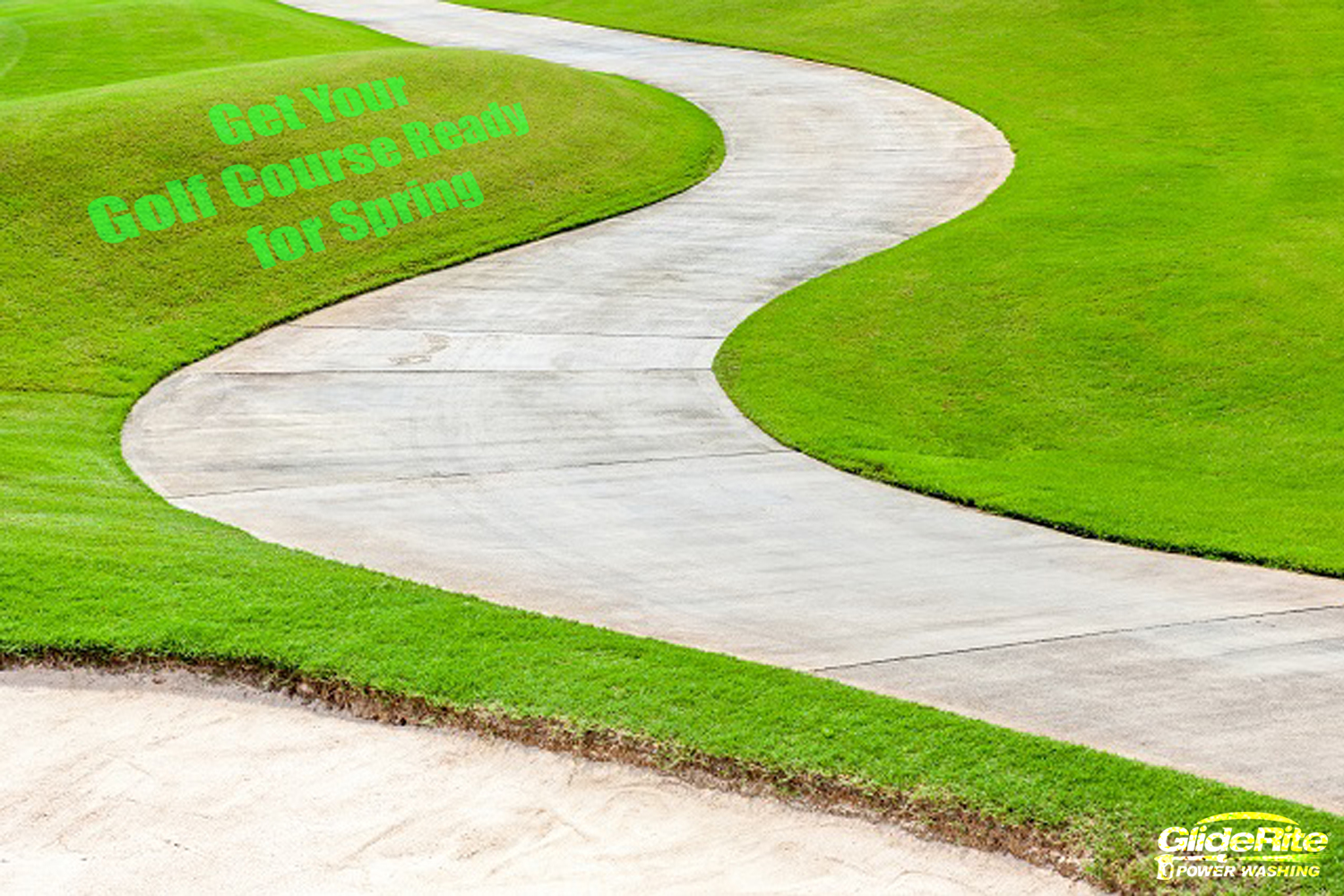 04 Apr

Get Your Golf Course Ready for Spring

For Texas weather, December is the perfect time to schedule a power washing for your entire golf course. Since spring and summer are the busiest seasons for golf courses, scheduling your cleaning with Glide Rite Power Washing during the winter puts you ahead of the competition. By scheduling early sanitation of your entire golf course, you are minimizing disruption to your guest. This aids in their guest experience as Glide Rite can clean all aspects of your golf course with minimal disturbances.
Tennis Courts
Keeping your tennis courts clean for your customers is more than just for appearance. Tennis courts must be power washed regularly in order to prevent them from having costly damages in the future. Because tennis courts are made of a top layer of synthetic/acrylic products, with concrete or asphalt underneath, they are extremely susceptible to cracks and corrosion. If your tennis court becomes damaged, your customers can't use the court since it would be dangerous for them. Ensuring the court is cleaned regularly also helps boost players performance in terms of safety, rapidity, and stability.
Pool
Maintaining the concrete around your pool has several of the same benefits as maintaining your tennis courts. It can prevent costly damages in the future, increase the longevity of pool equipment, keep the pool aesthetically pleasing, and customers safe. Not only does it keep them safe, but it protects them from the spread of bacteria and germs that often comes with pools (even when using all those disinfecting chemicals).
Restaurants & Club Houses
Ensuring the exterior walls of the buildings on your golf courses, like restaurants and club houses, isn't just for curb appeal; it can help contribute to the overall health of your golf course and customers. Exterior sanitation can help prevent the spread of diseases when performed regularly. Depending on what these walls are made of, it can also help prevent risks of cracking and eroding.
Cart Path
Most cart paths are made of concrete, which means they are easily susceptible to stains, corrosion, and cracks. As part of how your customers get around, you will want to keep these paths as safe and clean as possible. This will help protect them and you will get to save some money, too. Repairing concrete structures will cause that part of your course to shut down from start until the concrete dries. It is easier to maintain these pathways to ensure a smooth customer experience.
Glide Rite Power Washing has extensive experience power washing golf courses and all that are contained on the premises. We have state-of-the-art equipment to ensure that each surface is getting the proper amount of pressure, chemicals, and temperature. We also have water reclamation abilities, so none of the water we used gets left behind or put into storm drains. If you want your golf course to stay ahead of the competition, make sure to schedule your power washing with Glide Rite. You can contact us today for a free estimate! 817-807-0004